Your stay at the Paradise Fishing Lodge is fully all inclusive with all meals, alcoholic and non-alcoholic drinks, daily happy hour, fiber optic wifi, laundry service, and even transportation included. Customize your length of stay and group size for the perfect package.
We have completed our House with 5 large private rooms and which we have developed to offer as a deluxe suite package that will give a family or smaller group of fisherman an option to be hanging their hats all under one roof.  While many to most of our guests prefer to have and enjoy the benefits and privacy of having their own room cottage, there are others that enjoy having everyone in the same house for direct interaction. Please inquire with any special needs or concerns.  We can tailor fit any package* to accommodate you and your clan.  Whatever you prefer – we AIM to please!!!
*Additional Fees Apply

**Upgrade to single rooms. Additional Fees Apply
Paradise Fishing Lodge Rates
2022 -2023 season
Prices Per Person INCLUDING Taxes
Contender Package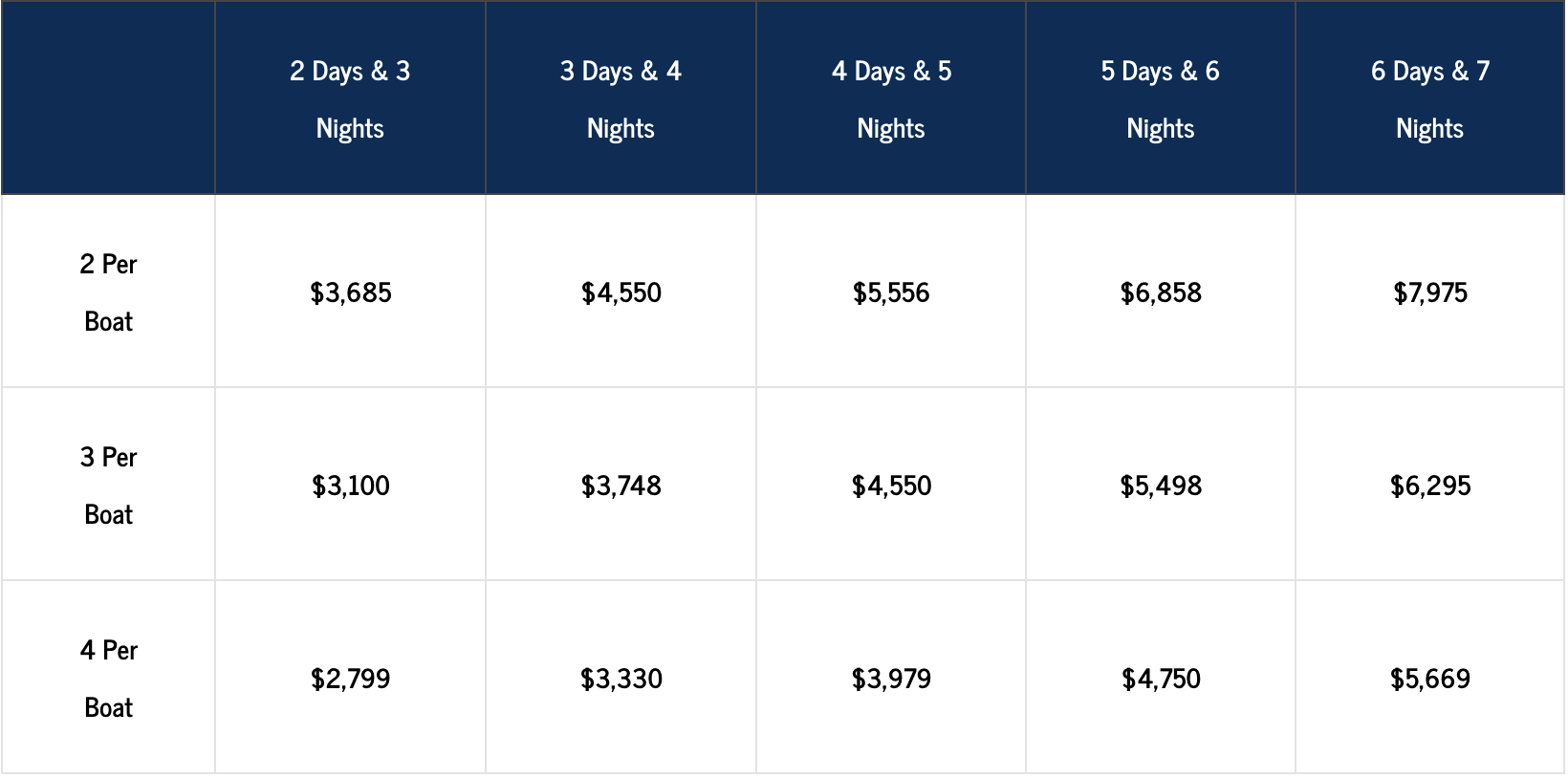 | | 2 Days & 3 Nights | 3 Days & 4 Nights | 4 Days & 5 Nights | 5 Days & 6 Nights | 6 Days & 7 Nights |
| --- | --- | --- | --- | --- | --- |
| 2 Per Boat | $3,685 | $4,550 | $5,556 | $6,858 | $7,975 |
| 3 Per Boat | $3,100 | $3,748 | $4,550 | $5,498 | $6,295 |
| 4 Per Boat | $2,799 | $3,330 | $3,979 | $4,750 | $5,669 |
Our Package Include:

– All private, air-conditioned ground transfers to/from PTY Airport, DAV Airport, Panama City, and the lodge.
– Three meals a day, including delicious 4-course dinners prepared by our 5-star chef Eduardo.
– Daily happy hours and hors d'oeuvres served at the pool swim-up bar.
– Full open bar available daily, offering a wide variety of imported and local cocktails, beers, hard liquor, wines, and much more.
– Gourmet coffee from the owner's own private coffee plantation.
– Deluxe air-conditioned cabins with private bathrooms, hot water, outdoor showers, and flat-screen TVs.
– High-speed fiber-optic wifi.
– Spectacular ocean views from your room, the pool, and the restaurant.
– Laundry service.
– During the fishing days, we provide all tackle, lures, and gas. Our top-of-the-line custom Alutecnos and Daiwa Reels and Rods are paired with the best available lures and gear. Additionally, the boats are equipped with bean bags for added comfort.
– Soft drinks, bottle water, beers on boats.
– Fruits, snacks and delicious lunch on the boats.
– Professional English speaking captain & Mate.
Rates DO NOT include:

– International Airfare.
– Domestic flights between Panama City and David.
– Any hotel nights in Panama City.
– Tips to fishing crew and lodge staff.
– Live Bait (Cojinuas).
– Frozen Sardine, commercial grade.
ASK ABOUT OUR UPGRADED BOAT PACKAGES ON OUR NEW 31' BERTRAM AND 33' WORLD CATS
BOOKING POLICY
Booking will be secured with a 50% deposit and balance payment will be due 90 days prior to arrival.
CANCELLATION POLICY
Cancellations affect us greatly, we will accept cancellations In writing with at least 120 days prior to arrival date minus a $600 per person cancellation fee.
119 days or less of your arrival at Paradise Fishing Lodge, all payments made on your trip will be non-refundable.
TIPPING
The suggested daily tip for your fishing captain is $125 as well as $65 daily for the mate per boat (not per person). For the lodge staff, we suggest $50 per day / per person. This will be collected and divided amongst the entire team that makes your stay happen (cooks, gardeners, mechanics, cleaning staff). If you feel they did an excellent job, you are free to tip more and it will be very much appreciated. Cash tips are much preferred over credit card. There are no ATMs on site so please plan accordingly.
CURRENCY
As a tourist, you will have no difficulty with the currency "exchange" because there is none. Panama has adopted the U. S. dollar as their currency, though locals call the dollar a "Balboa" after the famous explorer. Credit cards are accepted at the finer hotels and restaurants in Panama City. Otherwise, it is best to carry a large supply of smaller denomination bills – nothing larger than $20's. Bills of $50 and $100 can be hard to spend or exchange throughout the country!
LANGUAGE
English is considered Panama's second language. In Panama City you can expect the people in the nicest hotels, bars and restaurants to speak English fluently. Once outside of the cities, you may find it helpful to have brushed up on your Spanish, as you are in Latin America.
WEATHER
Panama's weather is tropical, with daytime temperatures averaging around 85° to 90° on the ocean, and only about five to 10 degrees cooler at night. December through April is the dry season, often with little or no rain. The other months of the year can be quite humid, with tropical rain showers in the afternoons, some of which can be quite strong, but usually of short duration. You would be EXTREMELY well served to bring a sun screen with a SPF rating of fifty ( 50 ) or higher. Preferably SPF: 70-80 – Also don't forget the lip protectant!
SAFETY
The people of Panama are friendly and the crime rate is low. Panama City is a large metropolis, so just as you would in any big city, exercise caution. In the central banking and shopping district (where you will be staying), you can feel very safe. If you go out at night, just take one of the many friendly cabs. In David, you are generally safe day and night but as anywhere on the planet you should always exercise due diligence and caution when traveling in unfamiliar surroundings.